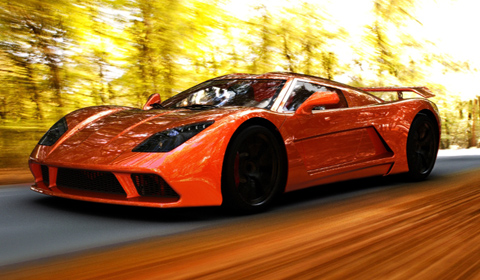 French company Genty is working on a new and powerful supercar named the Akylone. With a weight of only 1,100kg and a massive output of the power the Genty Akylone will be a serious competitor for hypercars like the Bugatti Veyron or Koenigsegg Agera.
This Genty Akylone will be powered by a 4.8 liter twin-turbo V8 which should provide more than 1,000 horsepower and 1,270Nm of torque. All this power will be transferred to the rear wheels via a sequential seven-speed transmission.
The performance of the Genty Akylone should be very impressive. The French promise a top speed of 354km/h. The acceleration from standstill to 100km/h will be done in 2,7 seconds, while the 200km/h barrier will be hit in 7,2 seconds and the 300km/h will be reached within 14 seconds.
Genty will try to beat the lap record for road-approved cars at the famous Nürburgring Nordschleife and is even considering entering in the 24 hours of Le Mans.
The Genty Akylone will be presented for the first time at the 2012 Paris Motor Show. The limited production run of fifteen cars guarantees exclusivity, and so does the undisclosed price tag.