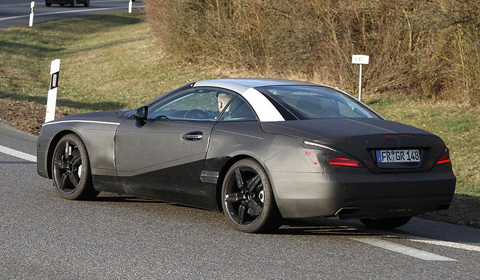 More details and spyshots of the next generation Mercedes-Benz SL have emerged. The new pictures provide a better view on the new aluminium body of the German roadster.
The current model SL, the R230 was introduced in 2001 and received a major facelift in 2006 and 2008, so the lifespan of this model was coming to an end. The 2013 Mercedes SL will feature a more upright nose, making it more similar to the front of the CL. The rear incorporates elements from the SLS AMG.
The 2013 Mercedes SL will be slighty larger, but also much lighter thanks to its alumunium body. This body reduces the weight by more than 100kg and benefits the fuel consumption and performance.
The roadster will be powered by a new twin-turbo V8 engine. This 4.7 liter engine provides 435 horsepower. In addition there will be a V6 and also an impressive V12. Those who prefer the more powerful editions will be pleased to notice the SL63 AMG and SL65 AMG are in the works as well.
The upcoming Mercedes SL will be unveiled at the Detroit Motor Show next January and is scheduled to hit the showrooms in spring.
[Via Auto, motor Und Sport]