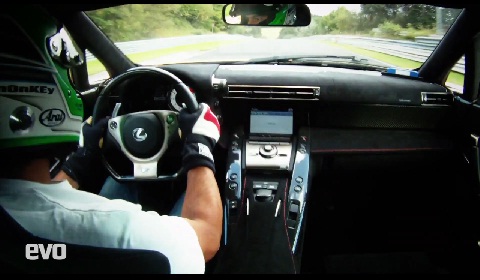 Evo Magazine's Chris Harris has given the Lexus LFA Nurburgring Edition a thorough testing on its home turf in Germany. From the video, below, you'll see that he didn't hold back either. He tested the car thoroughly through the course of a lap at the 'green hell'. The review was most likely carried out around the same time as Lexus driver Akira Iida set a new record time of 7 minutes and 14 seconds.
The LFA Nurburgring Edition features the same V10 as the standard LFA and 10hp extra power for a total of 570hp. Only 50 cars will be produced to celebrate the LFA's third, class-winning outing at the 2010 Nürburgring 24h race. Whilst the Nurburgring Edition maintains a 0-100km/h sprint of just 3.7 seconds and a maximum speed of 325km/h, extensive suspension and handling refinements make the supercar the superior option at the Norschliefe.
The Nurburgring Edition has had a difficult inception. 67 year-old Toyota test driver, Hiromu Naruse, lost his life during the car's development so we're sure Lexus will be pleased that the car he helped to refine is hitting the headlines for all the right reasons.
If you want to read our review of the car and our experience on the hill climb at Goodwood Festival of Speed, then click here.