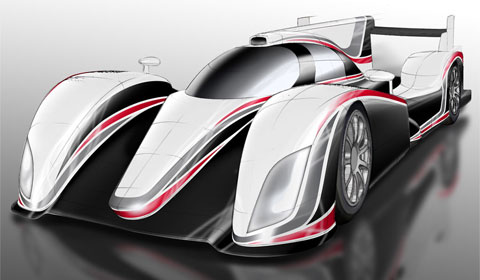 Japanese car maker Toyota has unveiled their 2012 Le Mans 24 Hours racer. Toyota's new endurance racer will be powered by a petrol hybrid powertrain and it will be based on a LMP1 specification chassis.
The new Le Mans racecar will be built by Toyota Motorsport in Germany. The engine is developed and produced by the Toyota Motor Corporation in Japan. Initial testing starts in early 2012.
It's an ambitious schedule, given how tough Le Mans is for first-timers. The drivers who will compete in Toyota's new Le Mans racer will be announced at a later date.
Tadashi Yamashina, Toyota Motor Corp. senior managing officer and Toyota Motorsports chairman, said:
TMC has entered Le Mans before, but by using our hybrid technology, this time will be a completely new challenge. We want to write a new page in the history of the Le Mans 24 Hours, as well as in the FIA World Endurance Championship, through our use of hybrid technology.
In addition, we aim to learn from the experience of competing in such a challenging motorsport environment to enhance our production car technology. Le Mans is a legendary race and I would like to thank the ACO and the FIA for their constructive and positive cooperation over the last few months.