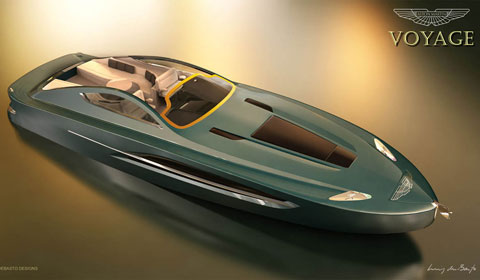 Designer Luiz de Basto has created an Aston Martin Voyage 55 speedboat concept. Inspiration was taken from the Vantage, the Rapide, the DBS and the Virage, as well as AM racing team's yellow and orange livery.
Parts of the boat resemble design statements from the British brand. The hull and deck of the Voyage are in dark green, while its interior comes in white. Parts like the front engine ventilation exit, and the engine ventilation intake were inspired by AM cars. Aston Martin's trademark headlights and rear light clusters, together with the rear spoiler, are all integrated into the design of the new Voyage 55 speedboat.
Previous yacht designs created by Luiz de Basto include the Magnum 44 Banzai, the 51 Bestia and the Otam 55. The fully functional boat can build upon request, but the price of the Aston Martin 55 Voyage has not been disclosed.
[Via Zercustoms]