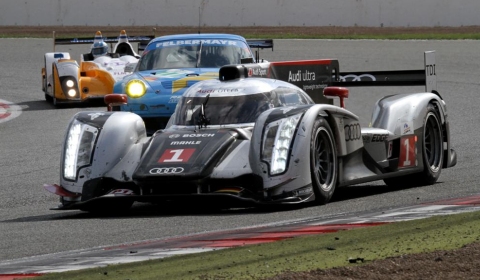 The fourth round of the 2011 Le Mans Series took place on the Silverstone circuit in England. The Autosport Six Hours of Silverstone on 10th‐11th September was the thirty‐fifth running of the famous British endurance classic. In all five categories the winners had the ability to take a decisive step towards bagging this year's titles. Fifty cars started the second‐last race of the 2011 Le Mans Series season.
Peugeot's Simon Pagenaud gained pole position in a time of 1m 43.924s ahead of Audi's Allan Mcnish's Audi who got a time of 1m 44.856s. Allan was closely followed by Simon's teammate Stephane Sarrazin 1m 45m 102s.
All throughout the weekend Audi's no2 and Peugeot's no7 were extremely close. Even thought it was Simon Pagenaud's first time on the track with Peugeot his driving was flawless. This resulted in an amazing race with great battles throughout.
Right from the beginning Audi and Peugeot fought to be at the front. However Mcnish collied with another driver which resulted with a tyre change and the realisation that there was a problem with the suspension, which had to be changed.
Once the no.7 Peugeot and no.1 Audi pitted, the race for the win continued. The gap previously between the two cars was reduced and led to the No.1 Audi overtaking the Peugeot. This battle continued thoughout the next couple of hours and the two cars become closer leading to the Peugeot gaining the lead again. The deciding factor was a pit stop for Audi which lasted 1m. This resulted in them losing the battle to Simon Pagenaud and Sebastien Bourdais's Peugeot 908.
Whilst the action was happening with the peugeot's and Audi's there was also a battle between the lower classes. LMP2 was won by the Greaves Motorsport team who lead for most of the race until hour 5 and were pushed back to second by the Bousten Energy Racing team. Once the race drew to a close the Greaves motorsport team were victorious.
LM GTE pro was won by the AF course team with the Ferrari who were ahead for the majority of the race. The team seemed to drive extremely well.
By Steven Roe for GTspirit.com