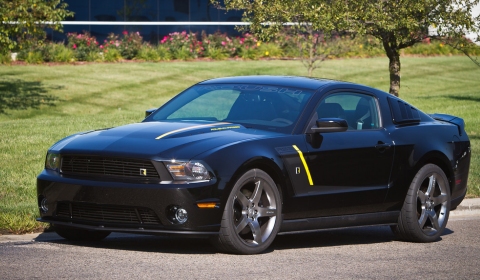 US tuner Roush has released their 2012 Roush Stage 3 Hyper Series Mustang. The 2012 Roush Stage 3 Mustang is powered by a 50-state legal TVS 2.3 liter Roushcharger system that delivers over 540hp and 465ft/lbs of torque.
The powertrain works in concert with the Roush-calibrated suspension that lowers the Mustang by almost an inch, and enables the vehicle to pull over 1G of lateral force on a dry skid pad. The Roush-tuned performance exhaust delivers an improved soundtrack.
Each 2012 RS3 Hyper-Series Mustang comes standard with black body paint as the base. The Hyper-Series palette includes these four color options: Mat It Mango, Gas It Green, Punch It Purple, and Launch It Lemon. For the 2012 model year, Roush Performance will only build twenty-five vehicles of each color. Vehicles will be serialized as Roush certified builds, and will be numbered as per their production spot for each Hyper-Series color.
Each 2012 RS3 Hyper-Series Mustang comes with two shifter balls that are easily swapped out depending on the mood of the driver. The 2012 RS3 Hyper-Series includes a suede-wrapped steering wheel to add a comfortable feel while driving a performance car. Finally, each new RS3 Hyper-Series owner will receive a unique accessories package including Roush apparel and display items to commemorate their serialized Hyper-Series vehicle.
The Hyper-Series RS3 is covered by a three-year/36,000-mile warranty and is currently available with a six-speed manual transmission only.