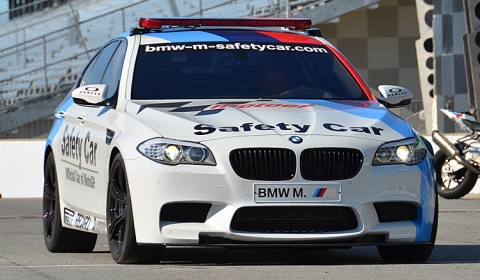 BMW and the MotoGP racing organization have officially shown their brand new safety car for all upcoming races at the Indy MotoGP; the 2012 BMW F10M M5 Safety Car. Based on the roadgoing F10M M5, the new M5 safety car is the successor to the BMW 1-Series M Coupe Safety Car used over the past months.
The luxury sports car features an Akropovic lightweight titanium race exhaust, high performance coilover suspension, gloss black 20 inch wheels witih P Zero Pirelli tires, front spoiler lip, carbon fiber trunk spoiler, Recaro pole position bucket seats (on power seat rails), and race brake pads. It also has black side gill trim and kidney grilles, swapped for the factory chrome versions for a more sportier look.
The pictures were made by the guys over at Bimmerpost.com.