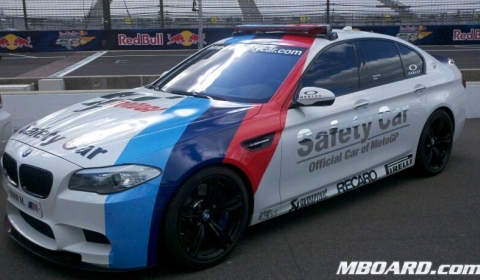 BMW is showcasing their brand new BMW F10M M5 Safety Car for MotoGP this weekend at the Red Bull Indianapolis Grand Prix.
The F10M M5 Safety Car is the successor to the BMW 1-Series M Coupe used over the past year. The luxury sports saloon features numerous upgrades. The exterior trim includes MotoGP safety car stripping, a lower front lip, black grille and warning lights on top of the roof.
Again partners provided some additional changes to the car. Akrapovic installed a new titanium exhaust system, providing a better sound track, weight reduction and a slightly improved performance. On the inside Recaro provided racing seats and new tires were installed by Pirelli.
[Via M5Board.com]