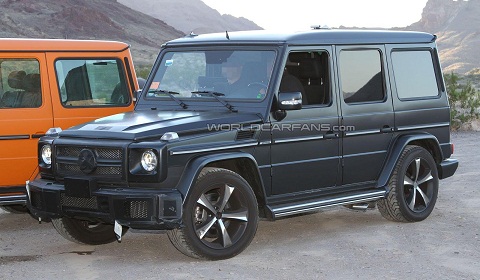 Despite being 32 years old, Mercedes appears to still be tweaking the G-Class and adding more power and new bodykits to the SUV. Worldcarfans photographers managed to snap a few pictures of the G-Class hot-weather testing in the US.
Mercedes have committed to producing the G-Class, a least until 2015. The car in the pictures clearly wears the AMG badge and features enlarged air intakes. Sources are suggesting that it sounds stronger too so naturally, the speculation is that AMG are creating a G63 or G65 version of the rugged off roader.
Perhaps the news might excite some of the current list of G-Class owners. These include celebrities such as Megan Fox, Hilary Duff and Eric Clapton.