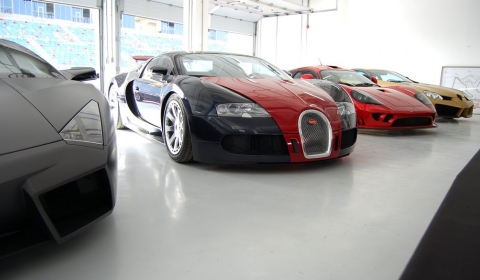 Maybe you remember a few years ago, when there were a few pictures going around the Internet of a guy in Bahrain that had a Lamborghini Reventon, a Bugatti Veyron FbG by Hermès, and a Saleen S7.
Alexsmolik found out that what we saw was just a fraction of what the guy actually owns! The pictures in the gallery below show what is stored in his personal garage.
On the pictures you will see cars like the Lamborghini Reventon, Ferrari 250 GTO, Ferrari Enzo, Bugatti Veyron FbG by Hermès, Porsche Carrera GT, Ferrari 599 GTO, Ferrari 458 Italia, Mercedes SLR Renovatio, Saleen S7, Ferrari F40, Lamborghini LP670-4 SV, Bentley Continental GT, Lamborghini LP640, Maybach 57, Maserati GranTurismo MC Sportline, Rolls Royce Drophead, Mercedes CLK GTR AMG, Nissan Skyline GTR, Lamborghini Miura, and many more.