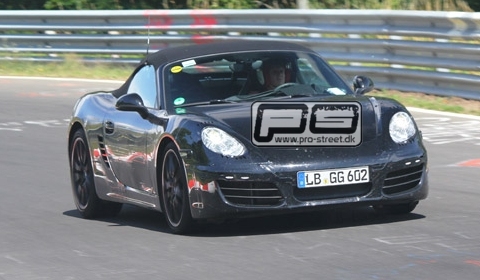 The development of the next-generation 2012 Porsche Boxster is well underway as you can see in the images of the test mule demonstrating its skills at the Nurburgring.
Following the arrival of the new Porsche Boxster S Black Edition in the showrooms this year and released at Geneva 2011 as the last hoorah, Porsche's new entry-level convertible range is now ready to be replaced by a brand new model in the upcoming 12 months.
The engineers in Zuffenhausen are developing a new engine for the next generation Boxster and Cayman models. This 2.5 liter four-cylinder unit will feature a larger bore than on the current 2.9 liter engine and will be twin-turbocharged up to around the 360bhp and 470Nm of torque. The 2.9 liter engine stays, with an increase in power from 252hp to 265bhp and 280Nm of torque. The 3.4 liter for the Boxster S will deliver 315bhp and 360Nm of torque compared to the current 306hp.
The new Boxster will be unveiled at the Detroit auto show in January 2012.
[Pictures via Pro-street.dk]