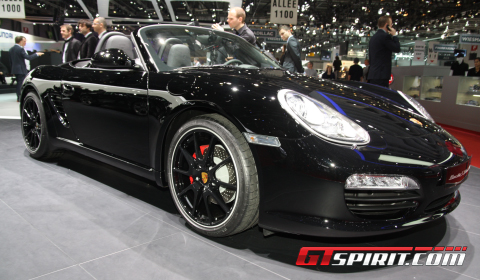 The Germans have shown the Porsche Boxster S Black Edition to world press after its release at the beginning of February. The special edition Boxster (coupe and spyder) comes with more power and more standard kit for a higher price, although exclusivity is also offered as this variant of the Boxster will be limited to 987 cars worldwide.
The exterior trim gets a black painted rear side air intake grilles, the twin tailpipe of the exhaust system and the model lettering painted in black on the rear luggage compartment lid. An embossed Black Edition model designation on the side of the fabric hood identifies the car and the roll-over bars are painted in black to finish the look.
An extra 10hp and 7lb-ft of torque, take the 3.4 liter flat six to 316hp from 7,200rpm and 273lb-ft from 4,750rpm. This brings the 0-100km/h time down to 5.2 seconds and top speed up to 276km/h (171,5mph). Owners will have the option to include the seven-speed Doppelkupplungsgetriebe (PDK) gearbox for a 0.1 gain in the 0-100km/h time with a small reduction in top speed as compensation. As standard, the Black Edition will feature a six-speed manual transmission.
The limited number of sports cars will be delivered this month. German customers can expect a price tag of € 63,404 including VAT.