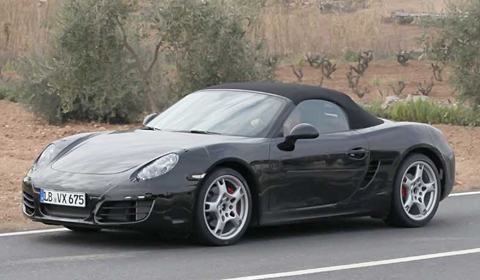 According to British Car Magazine the next generation Porsche Boxster is not an evolution of the current model but an all-new vehicle.
The successors of the Boxster and 911 will share elements of their platform and componentry. But the 2012 model Boxster is designed with an cab-forward design so the car will be more strongly differentiated from the 911. The upcoming Boxster will feature some unique styling cues on its front and rear fascias, new headlamps and taillights, a new side air intake design and a steeper windscreen.
The dimensions will grow as well, by 60mm (2.36 inches) at the wheelbase and 37mm (1.46 inches) in total length, while the height loses 10mm (0.39 inches) and the front overhang is reduced by 25mm (0.98 inches). The new cabin will offer the passengers more legroom, 18mm (0.70 inches).
Although the dimensions will grow, the weight of the car will come down by 15kg resulting in an overall weight over 1,320kg for the standard Boxster and 1,340kg for the Boxster S.
The interior will receive an major make over as well. This will feature relatively wide, rising console and centre stack, higher-class surfaces and the large touchscreen similar like in the Panamera and Cayenne.
The engineers in Zuffenhausen are developing a new engine for the next generation Boxster and Cayman models. This 2.5 liter four-cylinder unit will feature a larger bore than on the current 2.9 liter engine and will be twin-turbocharged up to around the 360bhp and 470Nm of torque.
The 2.9 liter engine stays, with an increase in power from 252hp to 265bhp and 280Nm of torque. The 3.4 liter for the Boxster S will deliver 315bhp and 360Nm of torque compared to the current 306hp.
Car Magazine has suggested that the new 2.5 liter straight-four will come in various performance stages, and could eventually replace the 2.9 liter unit altogether. A hybrid could be in pipeline as well and even an diesel seems possible. Converting the new boxer to TDI technology is said to be difficult but feasible too.
The new Boxster will be unveiled at the Detroit auto show in January 2012.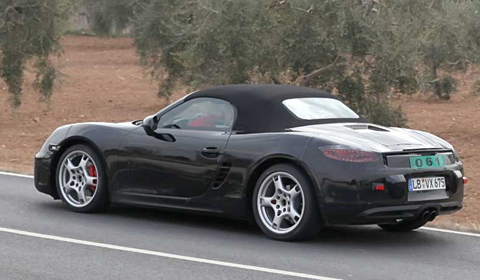 [Via Car Magazine]