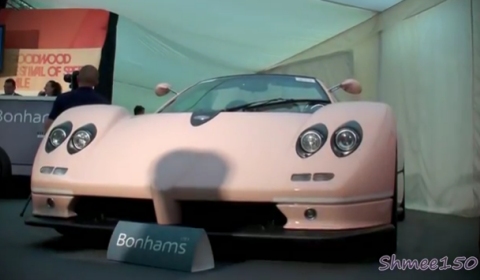 Our dear friend and partner Shmee150 filmed the pink Pagani Zonda C12 S 7.3 Roadster that was recently been sold via a Bonhams Auction at the Goodwood Festival of Speed 2011. You can see some shots of the car before watching the auction unfold.
Originally manufactured as a right-hand drive C12 S Roadster, this particular Zonda was sent back to the factory in 2008 for an overhaul and upgrading to 'F' high-performance specification. Carried out between June and September that year, this work included a complete overhaul of the 7.3 liter engine, which now produces a staggering 602bhp at 6,150rpm and 560lb/ft of torque at only 4,000rpm.
At the same time the car was repainted from yellow to its current 'Elvis Presley Cadillac Pink' livery, while other noteworthy features include a new leather dashboard, carbon fiber engine cover and rear diffuser, new 'F'-type exhaust system and an upgraded ECU. In this specification the Zonda is claimed to accelerate from a standstill to 60mph in only 3.6 seconds on its way to a top speed of 214mph. Of equal importance is the braking capability, the stop from 120mph being achievable in a mere 4.4 seconds courtesy of Brembo's best.
The car sold for a hammer price of £ 290,000 which on the assumption it remained in the UK with VAT would make for a total of £ 390,000 after all costs involved.