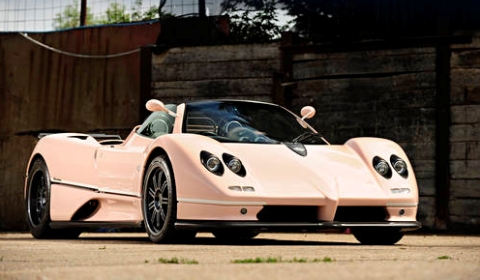 The recently spotted in the UK 'salmon pink' Pagani Zonda C12 Roadster with its 7.3 liter engine is coming up for sale at the Bonhams auction at this year's Goodwood Festival of Speed on Friday 1st July. The hypercar has had only one owner from new and is 2004 model.
Originally manufactured as a right-hand drive C12 S Roadster, this particular Zonda was sent back to the factory in 2008 for an overhaul and upgrading to 'F' high-performance specification. Carried out between June and September that year, this work included a complete overhaul of the 7.3 liter engine, which now produces a staggering 602bhp at 6,150rpm and 560lb/ft of torque at only 4,000rpm.
At the same time the car was repainted from yellow to its current 'Elvis Presley Cadillac Pink' livery, while other noteworthy features include a new leather dashboard, carbon fiber engine cover and rear diffuser, new 'F'-type exhaust system and an upgraded ECU. In this specification the Zonda is claimed to accelerate from a standstill to 60mph in only 3.6 seconds on its way to a top speed of 214mph. Of equal importance is the braking capability, the stop from 120mph being achievable in a mere 4.4 seconds courtesy of Brembo's best.
[Via Shmee150.co.uk]