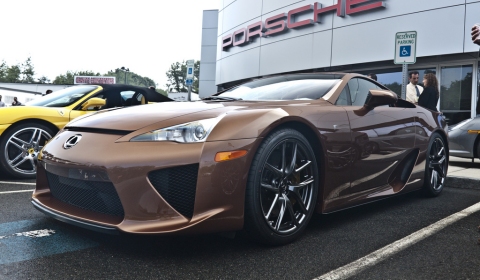 This unique and one-of-a-kind brown Lexus LFA supercar has been delivered to its new owner in the US. The Japanese sports car was delivered to the person over the past few days by Herb Chamber's Lexus in Sharon, MA. The mix between the exterior and interior is a little bit hit and miss. Could you live with the color setup?
For those of you checking the pictures, yes it is parked in front of the local Porsche dealership and on a reserved parking space for disabled people.
Just a small recap. The Lexus LF-A is powered by a 4.8 liter V10 engine with an output of 552hp. If you want to know more about the Lexus LFA check out our road test.
[Via L4P, credit pictures Stefan Dume]