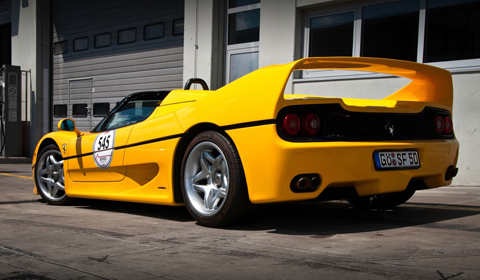 The Modena Trackdays at the Nürburgring featured many interesting cars. In addition to the Formula 1 cars, Ferrari FXX and 599XX, the Enzo prototype, the purple 599 GTO, and the classic Ferrari 512 M Berlinetta there were more cars from the prancing horse on track.
A great variety of the Italians racing cars were at the paddock of the famous German circuit. Classic Ferraris like the 250 GT SWB, 250 GTE 2+2 and 365/4 GTB Daytona, and racing cars like the 312PB, the 512 BB LM and the F40 LM were in the paddock or even entered the circuit.
Also noticeable were the mid-engined Italian sport cars like the 308, 512BB, 348, F355, 360, F430 and 458 Italia. One of the highlights was the yellow F50, the successor of the legendary F40 which was introduced in 1995 to celebrate the company's 50th anniversary. What is your favorite?