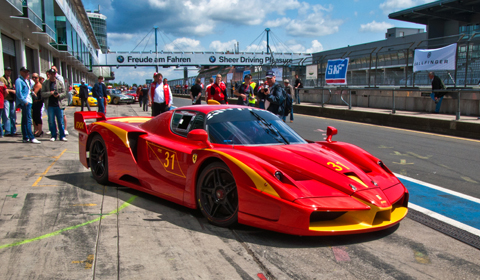 The Modena Trackdays is a bi-annual event organized by German Ferrari specialist Modena Motorsport. This years edition took place on the 29th and 30th of June on the famous Nürburgring and featured a wide range of very exclusive and remarkable cars.
Started in 1993, the Modena Trackdays offers owners the opportunity to drive their cars on the racing track while the public is given the rare opportunity to see the cars in an informal setting. Although Modena Motosport is specialized in Ferrari, these track days are open for to classic, exotic and racing cars from all manufacturers. There is also a concourse d'elegance open for all the Ferraris.
This year's edition featured many Formula 1 cars, an impressive collection of sport cars like the Audi R8 LMS, McLaren F1 GTR Longtail, Porsche 911 GT1 and the Maserati MC12 GT1.
Also, many Ferrari's entered the Nürburgring. A few examples of the many cars at the track were the F40, F50 and an Enzo Prototype M3 with a body is derived from the model 348. Many 599 GTOs attended this event as well, just as many other Ferraris ranging from classic cars like the 250GT to the California.
Additionally, a Ferrari FXX, a FXX Evoluzione and one 599XX played an important role in this event. Despite the fact the 599XX didn't enter the track during the event, the two FXX's eagerly did. In this report we emphasize on these exclusive and fast cars, other cars will be highlighted the upcoming days.
The Ferrari FXX is a high performance race car based on the street-legal Enzo. The FXX is used exclusively on the track as part of a specific ongoing research and development program. Customers pay € 1.5 million, but are only allowed to drive the car on special track days which are approved by Ferrari. After they drive the car, the owners are entitled to be briefed by Ferrari on the car's performance.
The FXX's engine is based on the Enzo's V12, but displacement has been increased to 6,262cc from 5,988cc. Output has been boosted from the Enzo's 651hp, to 789hp at 8,500rpm. The maximum torque is 686Nm at 5,750rpm. Thanks to these performance figures, the FXX is able to reach a top speed of 391km/h.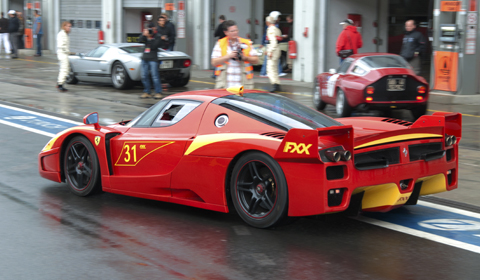 In 2008, the FXX improved under the Evoluzione kit, which will continually adjust specifics to create more power, quicker gear changes, and to lower the car's aerodynamic drag. The V12 engine will generate 850hp at 9,500rpm giving theoretical top speed of 400km/h and 0-100km/h in 2.5 seconds. The maximum torque has slightly increased to 690Nm at 5,750rpm. There will be gearbox changes so that shift time will be reduced to 60 milliseconds per shift, a reduction of 20 milliseconds. The FXX's equipped with this package also received a new livery in addition to new rear wing profiles.