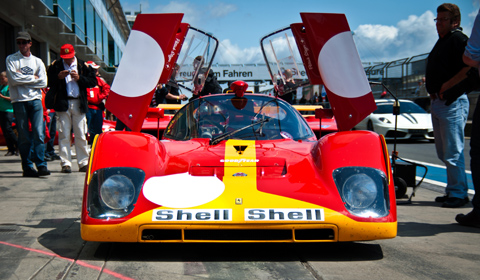 At the Monday Trackdays at the Nürburgring were many interesting and historical cars. One of those cars on the track was the Ferrari 512 M Berlinetta.
This Ferrari was initially manufactured as a 512 S. In 1970 Ferrari began production of the 512 S to challenge the Porsche opposition. The Ferrari 512 S was named after its 5.0 liter V12 engine and a total of 25 cars were made. The V12-powered cars entered in the 1970 International Championship for Makes by the factory and private teams. The 512 was largely unsuccessful due to strong competition from the Porsche 917.
To take on the Porsches, most of the 512 S were later in 1970 converted to M (modificato) specs. This upgrade consisted of more powerful rear disc brakes and improved suspension. The bodywork was redesigned, it was lower and more aerodynamic. The 512M is powered by a rear-mounted 5.0 liter V12, which provides 610bhp at 9,000rpm. Due to its weight of only 815kg the car was able to reach of top speed of 340km/h.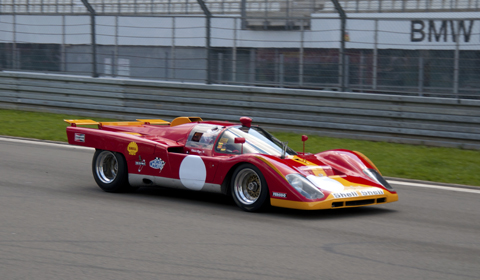 But in 1971, the Ferrari factory decided to focus on the new Ferrari 312 PB, which resulted in the 512 only being raced by privateers. From 1972 onwards, the 512 was withdrawn from the world championship following a change in the regulations, and some 512 were entered in CanAm and Interserie races in 1972.
The car with serial number 1018 was used by driver Georg Loss in 1970. He raced this car in Brands Hatch, Zolder, Monza, Watkins Glen, Zeltweg, the 1000km Paris and the 24 hours of Le Mans where this Ferrari was involved in an accident. In 1971 this car was converted to "M" specs as Berlinetta. George Loos raced in 1971 as well, before he sold it. Finally, the car was used by Patrick Sieger who had brought this classic racing car to the Modena Trackdays.