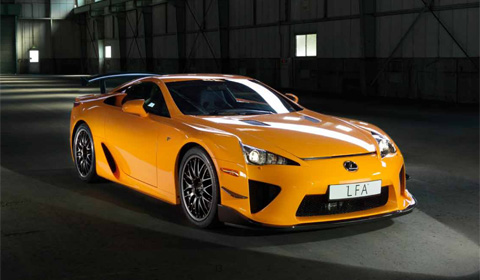 According to Japanese magazine Best Car Toyota is said to be working on a new version of the Lexus LFA.
The Lexus LFA started as a concept car showcasing their performance credentials. The V10 powered, 560hp, 325km/h supercar went into production in December 2010. Only one vehicle per day will be assembled by hand in Japan and the production is limited to 500 pieces.
Currently there are 165 LFA's reserved in Japan and all 50 Nürburgring Editions has been sold as well. At the current production rate the deliveries will extend throughout 2012. Due to positive feedback and reactions from customers Toyota reportedly decided to create another special model, designated under the term LFA II.
The LFA II will have a total output of 570 horsepower, similar to the Nürburgring Edition. Also, the car will get some distinctive bodyparts. The LFA II will be a more focused sports car but without compromising in luxury and comfort.
Just like the Bugatti Veyron or the Porsche 911, Lexus wants to keep its halo car in the spotslight by creating special editions. This also suggests that we can expect more special editions of the LFA in the future. Perhaps even a roadster?
More news about the Lexus LFA II is expected later this year. So stay tuned!
[Via Blogauto & Best Car]