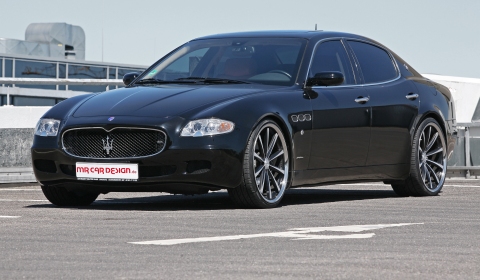 German specialists at Marc Reilly – MR Car Design in Erftstadt have refinded a Maserati Quattroporte.
The software has been discreetly optimized, what added 30hp and made it to be 430hp now and also 480Nm of maximum torque. MR Car Design also used the same tiresome Vmax where possible, which should certainly welcome the driver of this car.
A dynamic pressure-optimized stainless steel exhaust system with four tailpipes 76 millimeters in diameter each matches the increased power output. With the complete covering of the vehicle in black, the window tinting is essential, according to the Germans.
9×22 inch Vossen rims at the front axle with 245/30R22 tires, 10.5×22 inch rims at the rear axle with 295/25R22 tires and fifteen millimeter spacers in the rear axle, on the one hand, give the Italians an improved stability. In addition, H&R springs carefully lower the Maserati by 20 to 30mm.