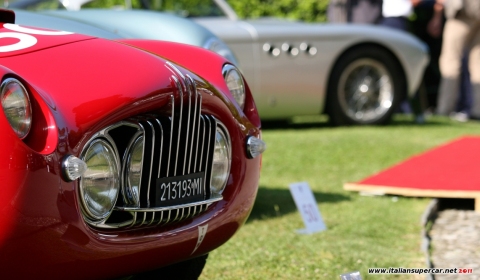 This year's edition was one month later compared to other years. Due to the different date Villa d'Este 2011 featured hot weather with sunshine, 30 degrees and some heavy rain showers that ruined part of the cars presentation. Despite all, the edition, as always, has been a success.
About sixty amazing, rare and sometimes unique cars were assembled in one of the most beautiful places in Italy The court awarded the 1942 Alfa Romeo 6C 2500 SS. The car is a marvel of design and engineering, especially this even more because it is one of the few bodied by Bertone. But the choice was tough, difficult to remain indifferent when your eyes see incredible vehicles, like the D8 120S, Talbot-Lago T23 or Hispano-Suiza K6.
There's always a great variety of cars and beautiful models divided by category and year. Nobody could remain indifferent to icons such as the Aston Martin DB4 GT, Lamborghini Miura S, Alfa Romeo T33 Stradale (only 18 produced!), Maserati 63 Birdcage, Alfa-Romeo TZ2 or the Ford GT 40 Mk II. To see all these together on the same day at the same place is a wonderful experience for any petrolhead or classic car lover.
Our favorite concept? The Aston Martin V12 by Zagato; so charming, elegant and incredibly beautiful. The best sound? Among the vintage cars, the Maserati Birdcage for sure, it seemed that they had put a furious lion under the hood instead of the engine.