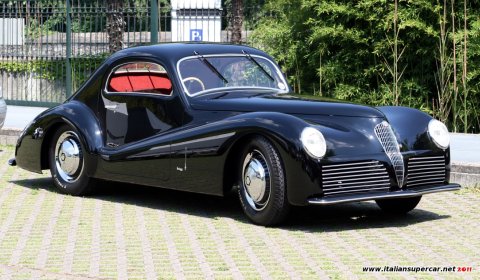 The Coppa d'Oro Villa d'Este, the international Concours d'élégance for motor cars, was held for the first time on the 1st of September 1929 following a joint initiative undertaken by the Automobile Club of Como, the Grand Hotel Villa d'Este and the Comitato di Cura di Como.
Italy's most luxurious hotel, the Villa d'Este on Lake Como, served as the perfect venue for the event. This year's Coppa d'Oro (Golden Cup) car winner is this wonderful 1942 Alfa Romeo 6C 2500 SS. The classic car won via a public referendum at the Concorso d'Eleganza Villa d'Este 2011.
Using an earlier 6C 2500 SS, Bertone created this one-off coupe in 1942. Designed by the talented Mario Revelli di Beaumont, it features a racing inspired lower bulkhead, which allowed for a lower overall shape. Another competition option fitted is the enlarged fuel tank. The unique machine eventually left its native Italy for Switzerland and then on to the United States. Here it lingered until it was acquired by its current, Italian owner in rather derelict condition.