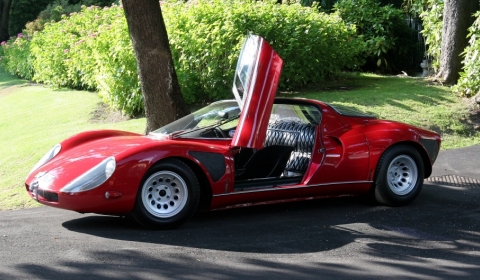 Our coverage of Villa d'Este 2011 continues with this 1968 Alfa Romeo Stradale. The Italian brand produced just 18 of these very special mid-engined homologation specials between 1967 and 1971. Based on the drive train of the T33 sports racing car they were powered by a road-going version of that car's over square 2 liter V8, detuned to 230bhp.
With its four camshafts, four coils, and Spica mechanical fuel injection this unit would rev to 10,000rpm and run the Stradale to 160mph in its six-speed Coletti transaxle. Such exotic engineering commanded a huge price tag, the T33 Stradale is thought to have been the most expensive car offered to the general public in 1968.
The alloy body was the creation of Franco Scaglione, the engine came from the drawing board of Carlo Chitti, both legendary names in the world of Italian specialist car design.