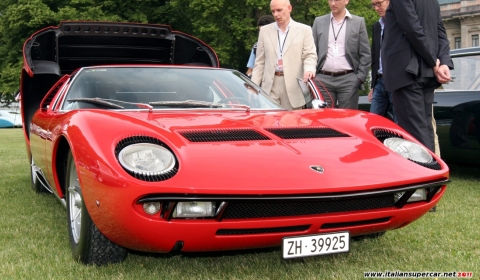 The Lamborghini Miura was the first V12 supercar with a mid-mounted engine, borrowing design principles from Formula One cars and sports cars like the Ferrari 250LM and the Ford GT40. Chassis designer Giampaolo Dallar sketched an unitary steel hull comfortably big enough for two occupants.
To keep the length down the 4 liter, 350bhp V12 engine was mounted transversely behind the cockpit. To get the drive to the rear wheels Lamborghini designed a special transaxle, mounted at the rear of the engine in unit with the light alloy crankcase, in concept not unlike the BMC Mini but revolutionary on a car witih such high performance.
Bertone clothed this 170mph car and it went into production in 1967. Sheer performance was only half the story, the balance, traction and cornering power conferred by the mid-engined location put the Miura in another league. This faster S version, which was showcased at Villa d'Este 2011 this weekend, appeared in 1969, followed by an even better faster SV in 1971. It had more power and much improved suspension. The SV lasted just a year, bowing out in the 1972 as the LP400 Countach started to come on stream.