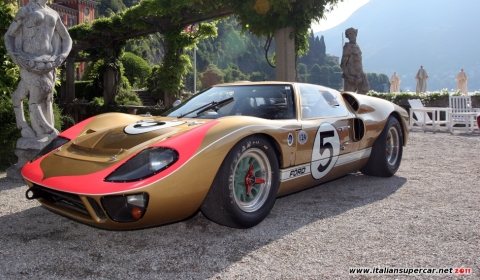 Ford built the GT40 to win Le Mans, which it did four times. A mid-engined two-seater powered by a 4.7 liter V8 the GT40 was originally conceived by Eric Broadley's Lola company. When Ford management became focused on giving the corporation a more exciting image the Lola design seemed like a short cut to racing success in the manufacturer's prototypes class in the classic French endurance evnet.
The first examples were finished at Ford Advanced Vehicles in Slough to the west of London in early 1964. They suffered stability problems but looked promisingly fast in the hands of drivers like Richie Ginther and Phil Hill. The 7 liter Mk II version finished 1st, 2nd and 3rd at Le Mans in 1966.
The shown here was showcased this weekend at Concorso d'Eleganza near Lake Como, Italy.