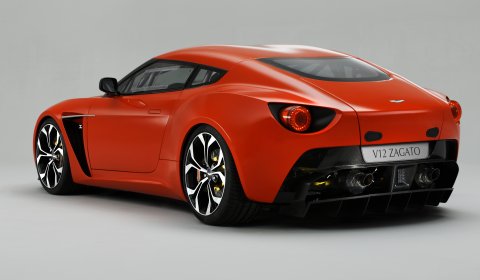 Aston Martin will unveil a brand new V12 Zagato endurance racer concept on the shores of Lake Como, Italy at the Villa D'Este Concours tomorrow. Reviving a collaboration which has produced some of the most beautiful and sought-after cars in the world, the partnership takes inspiration from the past, to create a modern descendent of classics such as the DB4GT Zagato, V8 Vantage Zagato and DB7 Zagato based on Aston Martin's V12 Vantage.
Work began in 2010 with initial meetings between Aston Martin and Zagato where sketches incorporating the design DNA of both companies were discussed and a decision was made to proceed with the project.
Featuring a new handcrafted aluminium body, the V12 Zagato has front wings made from seven separate pieces of aluminium, combined and then hand finished to give one flowing form. Another Zagato design cue is the double bubble roof created in this case from five separate pieces. The V12 Zagato is powered by a 6.0 liter V12 engine producing 510bhp and 570Nm of torque.
The V12 Vantage which forms the basis of the V12 Zagato has been proven on the race track as early as 2009 with a class win in its debut race at the 24 hour race at Nürburgring in close to production specification. In 2011 the car has gone on to form the basis of the new Aston Martin GT3 race car unveiled last month.
The first two V12 Zagatos are to be created as endurance race cars. The racing debut of the V12 Zagato will be at the 53. ADAC ACAS H&R-Cup VLN round at the Nürburgring on 28th May with a view to two cars racing at the 24 hour race on 25/26 June. The Aston Martin V12 Zagato will be shown for the first time at the Villa D'Este Concours tomorrow.
Stay tuned for a complete coverage of the event by our Italian reporter.