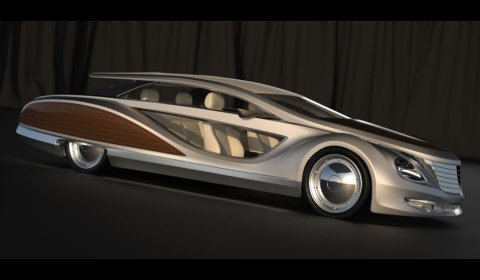 Gray Design and Strand Craft have announced the launch of their latest luxury automotive creation, the Strand Craft Limousine Beach Cruiser. The release follows the combo between a superyacht and supercar supercombo from Gray Design. The Swedes have now released a vehicle designed to roll by the coast line with maximum exposure to the sun.
The interior is finished in Alcantara leather with trim highlights in brushed aluminum and chrome. On board clockwork in the instrument panel is from Breitling and trim details accentuated with crystals from Swarovski. A sound system from Naim has been installed that uses a 1100 Watt amplifier to deliver premium sound quality to up to 15 speakers. According to Strand Craft, the quality of music will never be compromised even when the canvas roof is fully opened.
Power comes from a 6 liter V8 engine under the hood, capable of generating 400 horsepower at 4,400rpm and pushing the vehicle to it's limited top speed of 220km/h. This power is delivered to all four wheels via a Haldex system, giving maximum traction and performance over sand covered roads.