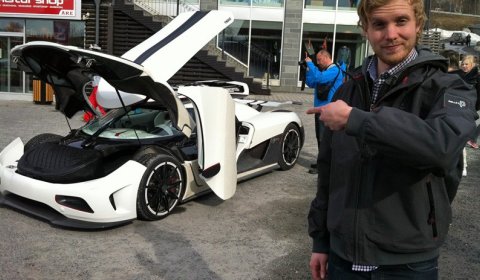 Guys at Teknikensvarld.se were the first journalists to drive the brand new Koenigsegg Agera R in Sweden. The hypercar from Scandinavia was one of the highlights at the 2011 Geneva Motor Show about a month ago. The video shown below includes journalist Erik Gustafsson driving the epic supercar on arctic roads.
The Agera's 5.0 liter V8 engine produces 1,115bhp running on E85 bio-fuel, a full 205bhp more than the standard car. Weight is up 40kg as a result of the power gains; the car now weighs 1,330kg. The package will cost £ 132,000 on top of the normal Agera which itself costs £ 875,000. For full technical details on the car, visit this link.
Interestingly enough, despite not having a four-wheel drivetrain, Koenigsegg are selling the Agera with a £ 17,593 roof-box and a set of Koenigsegg Skis!