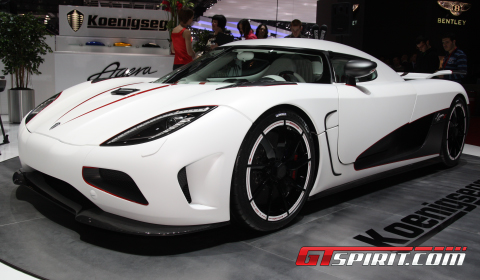 A year after presenting the Agera, Koenigsegg have announced the Agera R; a harder, faster, more focused version of the original Agera. It is on display at this years Geneva Auto Salon and we've got photos from the show floor! We've already seen one delivered to the Oman Royal Family, however, this is the first time the factory has presented the car to the general public and press.
The Agera's 5.0 liter V8 engine produces 1,115bhp running on E85 bio-fuel, a full 205bhp more than the standard car. Weight is up 40kg as a result of the power gains; the car now weighs 1,330kg. The package will cost £ 132,000 on top of the normal Agera which itself costs £ 875,000. For full technical details on the car, visit this link.
The car takes the fight directly to Bugatti. The Agera R weighs over half a ton less than the Guinness Book of Records title holder so expect a top speed well in excess of 240mph. Interestingly enough, despite not having a four-wheel drivetrain, Koenigsegg are selling the Agera with a £ 17,593 roof-box and a set of Koenigsegg Skis!
Take a look at the pictures in the gallery below and stay tuned for more information from the Geneva show floor.