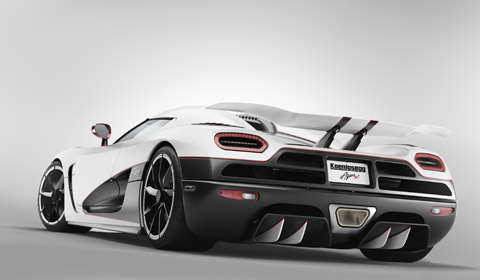 Koenigsegg is planning a brand new release for the Geneva Motor Show; the Koenigsegg Agera R dressed in white and with or without an unique streamlined ski box. The supercar looks wonderful in his new jacket and it will be one of the stars of the carshow.
The Agera R is not new to us all. The Oman Royal family received the first R-version of the hypercar from Sweden a few weeks ago.
The Agera 5.0 liter V8 engine produces a whopping 1115bhp making it the most powerful Koenigsegg ever produced. Exact performance figures are unknown at this stage, but thanks to the 1330kg dry-weight it is over half a ton lighter than the Bugatti Veyron. This creates a wonderful power-to-weight ratio. It is even capable of running on E85 bio-fuel.
The hypercar is packed with a special roof section featuring an integrated Thule carbon fiber ski box containing two pairs of Koenigsegg skis. The £ 17,593 roof-box can be easily swapped for a conventional roof section when you want to do the top speed of 186mph. Winter wheels and tyres are £ 7,322.
The price of the optional R-package is £ 132,000. This comes on top of the normal Agera which costs £ 875,000.
The Agera R displayed at Geneva is a customer car, which will be delivered to a Norwegian owner and contact of GTspirit. No it is not Jon Olsson, he is Swedish, but we do wonder what his opinion is about this ski box-hypercar combination.
Update: Jon Olsson – owner of the LP670-4 SV with a ski box and a Nissan R35 GT-R with a similar setup – responded to the Koenigsegg Agera R with ski box. Read his blog about it right here!