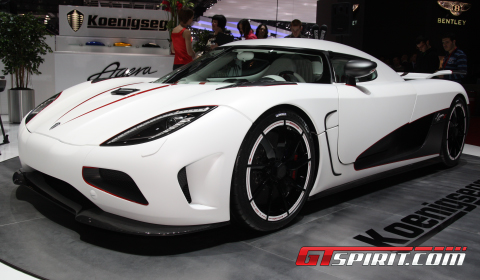 The Swedish supercar manufacturer Koenigsegg has released the full specifications of the Koenigsegg Agera R, which was revealed at the 2011 Geneva Motor Show a few weeks ago. The specification list includes all the information and states a three year warranty which we did not share with you up this moment.
The power output of the 5.0 liter twin-turbo V8 engine is 1,115hp at 6,900rpm with the redline at 7,250rpm. The torque is over 1,000Nm from 2,700 to 6,170rpm with a maximum torque of 1,200Nm at 4,100rpm. The acceleration figures are 0-100km/h in 2.9, 0-200km/h in 7.5 and 0-200-0km/h in 12.7 seconds. Full braking distance is 30.5m from 100-0km/h. The lateral g-force you can achieve is 1.6 g and the weight-to-power ratio is 1.19kg/hp with a dry weight of 1,330kg. The weight distribution is 45 precent front and 55 precent rear.
The supercar sizes 4,293 x 1,996 x 1,120mm with a wheelbase of 2662mm. The front track is 1,700mm and the rear track 1,650mm. The front overhang is 885mm with a rear overhang of 752mm. The engine is linked to a specially developed seven-speed dual clutch, 1 input shaft transmission with paddle-shift. It also has an electronic differential.
The chassis consists of a carbon fiber with aluminium honeycomb and integrated fuel tanks for optimal weight distribution and safety. Front and rear suspensio include double wishbones and two-way adjustable VPS gas-hydraulic shock absorbers, pushrod operated. Triplex damper is outfitted to the rear. It also has an electronically adjustable ride height.
Stopping power is available via ventilated ceramic discs with a diameter of 397mm, 40mm wide and six-piston calipers at the front. At the rear the car maker fitted ventilated ceramic discs with a diameter of 380mm, 34mm wide and four-piston callipers.
The wheel kit includes Koenigsegg forged Vortex generating aluminium wheels with centre locking sizing 19×9.5 inch at the front and 20×12.5 inch at the rear. The tyres are dedicated Michelin Supersport Unidirectional with asymmetric thread pattern sizing 265/35 – 19 inch (Y) at the front and 345/30 – 20 inch (Y) at the rear. Maximum speed rating for these tyres is 420+ km/h.
On the equipment list you will find dual airbags, detachable storable hardtop with glass roof, power windows, adaptive rear wing, adjustable pedals and steering column, Agera stitching, adjustable seats in rake and length, carbon ceramic brakes with Sport ABS, hydraulic lifting system, power steering, power brakes, extra four-point seatbelts for track use, satnav, Intelligent LifePo4 battery, MP3 player, USB connection, climate control, digital warning and info system, G sensor, alarm, tyre monitoring system, silver key, leather carpets, roof storage bag and a car cover.
Additional options are fitted luggage, special leather and colour requests, full visible carbon body, Inconel exhaust system, Front winglets, rear view camera, heated seats, ski box roof, skis, winter wheel package and four-point racing harnesses.
For those of you interested, please contact Koenigsegg for availability and specific pricing. The price of the optional R-package is £ 132,000. This comes on top of the normal Agera which costs £ 875,000. For more information and pictures from Geneva 2011 click here!