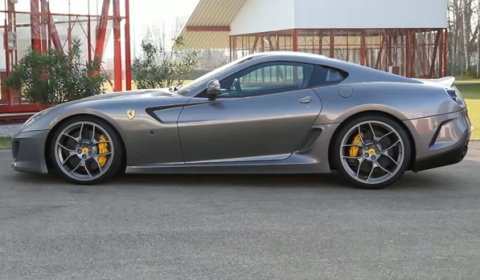 At the Geneva Motor Show 2011 German tuner Novitec Rosso release their take on the Ferrari 599 GTO. The release has found its way to the first customer unit. The Germans made a short video showing the silver grey prancing horse parked in the backyard of the tuner's premisise in Stetten in the south of Germany.
The video highlights the design of the vehicle but underneath the body you will find the wonderful package with a twin-compressor six-liter four-valve V12. Maximum power output jumped from standard 670hp to 888hp at 8,400rpm, giving the supercharged sports car a power-to-weight ratio of 1.74kg/hp. The tuned V12 also produces a peak torque, which increases by 242Nm to 862Nm at 6,600rpm.
The Novitec Rosso 599 GTO 888 sprints from zero to 100km/h in just 3.2 seconds and from standstill to 200km/h takes just 9.1 seconds. The top speed is well over 340km/h.