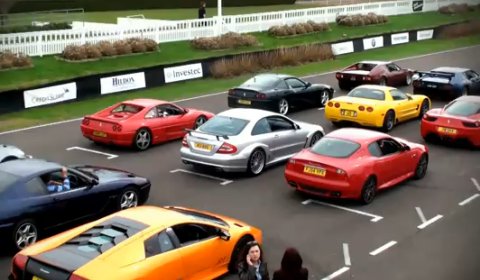 UK-based cameraman and GTspirit partner Shmee150 visited Peter Saywell's charity event at Goodwood Motor Circuit. The event showcased a fantastic selection of cars in attendance. The cars showcased here included the Pagani Zonda PS, Koenigsegg CCX, Lamborghini Murcielago LP670-4 SV, Ferrari 599 GTO, Ferrari 458 Italia, Mercedes-Benz SL65 Black, Spyker C8 Laviolette and the Mosler MT900.
In the first video you can see a tour through the paddock where you can feast your eyes over some fantastic machinery before watching them fire-up and head off for a parade lap of the circuit.
The second video shows you multiple vehicles returning to the paddock following a parade lap of the circuit.
The third and last video shows a bright yellow – Giallo Modena – Ferrari 599 GTO parked at the event.