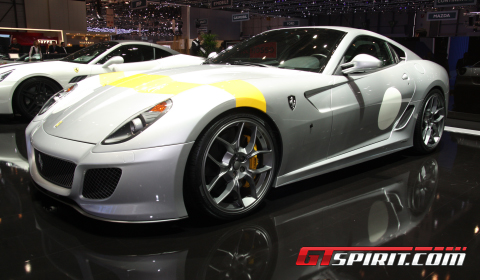 Novitec Rosso were brave enough to announce they were taking on the Ferrari 599 GTO as a tuning project recently. We got to see the car on the show floor today dressed in Ferrari's 'Heritage' livery. The 599 GTO 888 includes new and optimized engine components, a new exhaust and new extremely light forged wheels.
Twin-compression on the six-liter V12 means that the power output is now higher at 888hp. Maximum boost pressure is limited to 0.45bar. Water-to-air intercooler keep healthy engine temperatures. The car also features a stainless-steel exhaust system. Power outputs jump from the standard 670hp to 888hp at 8,400rpm and peak torque increases by 242Nm to 862Nm at 6,600rpm.
The tuner has developed custom-tailored forged wheels specifically for the Ferrari 599 GTO. The Novitec Rosso NF4 10Jx21 rim for the front axle weighs just 10.4 kilograms; the size 12Jx22 rear wheel weighs only 13.8 kilograms. In addition to their low weight these wheels also widen the track together with the wider Pirelli PZero tires in sizes 295/25 ZR21 and 335/25 ZR22.
The front-axle lift function is an extra as well. At the push of a button in the cockpit the front can be raised by 40 millimeters.
Check out our live gallery below and follow the link for full details of the car.