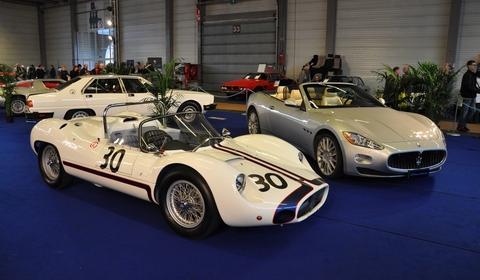 Same as last year the exhibition halls in Gent, Belgium, were host for the Flanders Collection Cars event. This event is a car show for collector's cars, classics, oldtimers and amazing sports cars. This year the organizers decided to concentrate themselves on Maserati, the sportive trident from Italy.
The Maserati Club Belgium brought eleven of their best cars and one motorcycle to the show ranging from a 2010 GranCabrio to a 1966 Mexico and Ghibli. The last one was officialy presented back in 1966 with two engines, a 4.7 liter with 340hp as entry level an an SS version with a 4.9 liter V8 producing 355hp.
The second eye-cathing model was the Mexico, presented in the same year as the Ghibli and came as a successor to the popular Maserati 5000 GT. This four seater coupé came with the same 4.7 liter V8 that only produced 290hp.
More words aren't needed here, just enjoy the beautiness of these Italian classics!