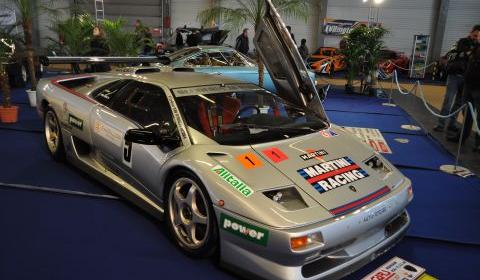 Flanders Collection Car is a car show for collector's cars, classics, oldtimers and amazing sports cars. This year the organizers decided to concentrate themselves on Lamborghini, one of the most respected supercar brands in the world. As this show concentrates itself on more 'older' cars, we got the chance to see eight classic Lamborghini's as well as three more recent models. What is certainly very interesting is that all cars on display are for sale.
When entering the exhibition hall one of the best Lambo's on display was right in front of us. The 31 pieces limited edition Diablo SVR, unveiled at the 1996 Geneva Salon as a lightweight competition version of the 'standard' SV running on a 5.7 liter V12 and 540bhp strong engine. Next to this one, they also displayed a first generation red Diablo VT. To refresh your mind this Diablo has a 5.7 liter V12 in the back producing 529bhp. The 0-100km/h (62mph) time is 3.8 seconds. Of course, the Diablo's successor was also present in the shape of a white Murciélago LP640.
Next eye-catching car was the 1982 Countach S5000. With its 5.0 liter engine it has an improved performance combined with a very good looking but rather special bodywork. The Countach could sprint from standstill to 100km/h (62mph) in just under six seconds and reach a top speed of almost 320km/h (200mph). About 676 examples of this car were ever made.
Also special and always nice to stare at is the Miura SV. Lamborghini gave the V12 of the standard Miura an extra 15bhp bringing it to a total of 385bhp. With a limited production of just 150 cars, we were glad so see this one live!
Lamborghini's most controversial car ever, the LM002 was displayed as well. The car you can see in pictures below once belonged to Mobutu, president of Congo. His LM002 was specially armored and by that it brings a total weight of over 4.000kg on the floor. The use of carbon fibre and stainless steel is all what was used here!
The event was home to the Jarama, Jalpa, Islero, 350 GT, Espada and last but not least a matt black finished Gallardo LP 560-4.