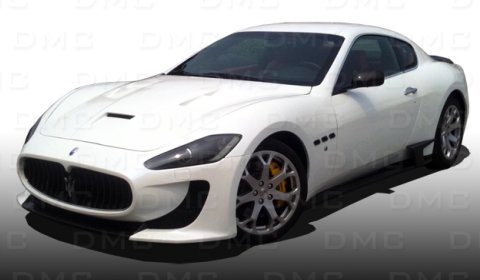 The official MC Stradale from Maserati is not even out, but the German tuners from DMC have already managed to come up with a styling kit. The kit does not only refines the MC Stradale, but also turns the regular GranTurismo into a MC Stradale!
DMC was able to get hold of one of the original MC Stradale automobiles, that were used by Maserati in their global GT Race competitions, which certainly helped a lot for the development of this kit. The German engineers have decided to call the styling package Grande Sovrano, which is italian for "Great Ruler".
A brand new front bumper adds the 2011 MC Stradale Look, but it is refined by the carbon fiber front splitter. The front hood has a total of three air-vents, one each left and right that consists of three air-stairs, and the centric cooling vent. The side skirts were completely new designed as well. An u-shaped carbon fiber trunk rear wing is combined with a massive three-finned carbon fiber rear-diffusor.
Under the hood, a water-cooled turbo-cooler is making sure that the air is on energy-friendly temperature. While the regular GranTurismo S had 440PS, it now has 600hp and a maximum torque of 588Nm. The luxury sports car now only needs 4.5 seconds until the 100km/h mark, and the maximum speed is increased up to 315km/h compared to the 295km/h that you normally get from the Maser.
DMC also added a set of diamond-forged rims. The front comes in 9,0Jx20 Zoll and the rear adds 12,5Jx21 Zoll sized rims.