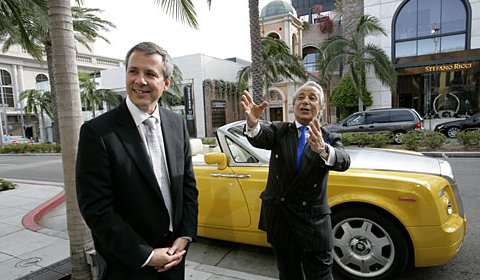 The news from Los Angeles 2010 is heading our way in a constant flow. The latest news is coming from Rolls-Royce who have teamed up with California-based designer Bijan Pakzad, also known under the name Bijan (right on the picture).
The designer is known for its Bijan's Rodeo Drive Boutique and the designer's own yellow Rolls-Royce Drophead Coupe, which you can often see parked outside the store. The exclusive store has often been nicknamed the most expensive store in the world and can be visited by appointment only.
The collaboration holds the delivery of a limited series of unique Rolls-Royce Phantom's carrying Bijan's design language. Bijan will create the designs and the craftsmen at Goodwood will bring his ideas into reality. The models will be delivered in the spring of 2011.
Bijan also owns a yellow Bugatti Veyron that featured in our popular overkill category a few weeks ago!