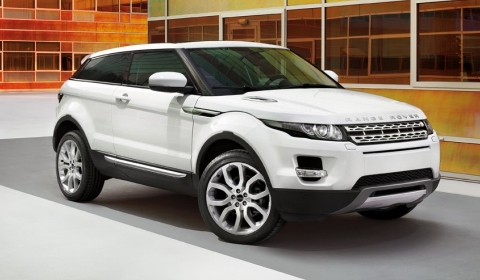 The all-new Range Rover Evoque has officially been introduced and will make its global public debut at the 2010 Paris Motor Show. This means that the Range Rover Evoque has turned the LRX concept car, which debuted at the North American International Automobile Show in 2008, into reality. It is the lightest and most fuel-efficient Range Rover ever.
There are three main vehicle design themes, each having a number of interior packages. Pure combines clean interiors in neutral colors with soft-touch, wrapped materials on the major surfaces and real-metal brushed aluminum trim. Prestige is the ultimate Range Rover luxury, combining a bespoke exterior with 19 inch wheels and metallic details, an optional 20 inch wheel, with an interior which is almost entirely leather wrapped. Duo-tone color schemes, with premium leather, twin-needle stitching and real wood and metal finishes. Dynamic has a bold exterior with 19 or 20 inch wheels and unique bumpers, sills, grille and tailpipes. A sports interior with perforated leather seats and sports detailing are included. Contrasting roof and spoiler color are available as a personalization option.
The compact size is at 171 inches (434cm) long, making the Range Rover Evoque vehicle 17 inches (178mm) shorter than a Range Rover Sport vehicle, and 7 inches (178mm) lower too. Furthermore, it is the lightest Range Rover model ever, with weights starting at just 3,582lbs (1625kg). The model will feature the new 240 bhp 2.0-liter Si4 engine linked to a six-speed automatic transmission.
The Range Rover Evoque will be manufactured in the plant in Halewood, UK. The car has been engineered for all global markets, and will go on sale in over 160 countries worldwide from Fall 2011.