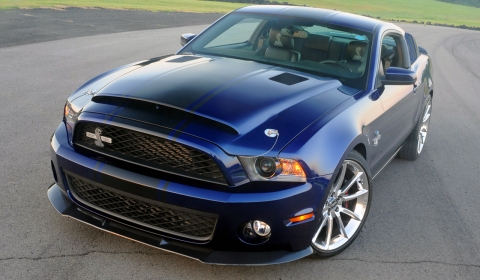 Shelby American has released the Super Snake package for the 2011 Ford Shelby GT500. The package includes new styling cues and an optional 800 horsepower tuned engine. Only 1,000 total Super Snake packages will be built at the Shelby American facility in Las Vegas or one of the official Shelby Mod Shops, beginning in September of this year.
For the 2011 model year, more power, a new anthracite wheel, white stripes and new side scoops are optional. The 2011 Ford Shelby GT500 Super Snake package includes:
Ford Racing handling pack including dynamic adjustable dampers, lowering springs, tuned stabilizer bars, and front strut tower brace
Six-speed manual transmission with 3.73:1 rear axle ratio
Shelby/Ford Racing supercharger upgrade producing over 660hp and 590ft-lbs of torque
Either a Shelby/Ford Racing or Shelby/Kenne Bell supercharger kit producing 750hp with upgraded drive shaft, billet twin 75mm throttle body and exclusive badges
Optional Shelby/Kenne Bell 800 horsepower tune on pump gas
Borla exhaust system
An optional Shelby / Eibach handling pack is also available
Shelby-designed Alcoa 20 inch wheels in durabright or anthracite
Short-throw shifter
Forged Shelby / Baer brakes with six piston calipers and cross drilled / vented rotors
Front brake cooling ducts and behind the door side scoops
Unique fiberglass hood featuring classic Shelby design and pins
Shelby signature Super Snake stripes in either matte black or matte white
Shelby lettering across the rear deck lid
Super Snake vehicle badges and official Shelby CSM interior plate
Optional two tone leather interior
Shelby signature embroidered headrests, floor mats and other Shelby designed components
The price of the 750hp package is $ 30,245 including installation but not the car. Each vehicle will be listed in the official Shelby registry. Complete Super Snake packages will only be available through Shelby American and its mod shops. Interested? Please visit www.shelbyamerican.com.