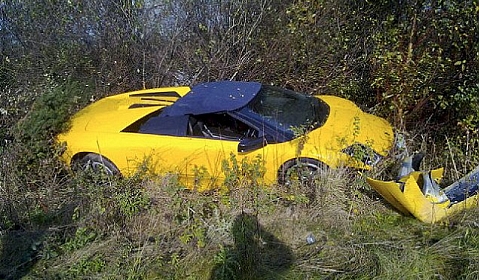 The LP640 must be one of the most crashed supercars. Every couple of weeks a new accident seems to happen. This yellow roadster had been hired by a bride as a wessingday gift to her husband-to-be. It seems something then went wrong on the trip to the church as these pictures show the car neatly placed in the undergrowth.
In the words of the driver, "I was driving it to the wedding when the back end skipped out while I was going around the roundabout. The car mounted the grass verge, hit the fence and flipped a full 360 degrees. The next thing I knew I was in a ditch."
The driver escaped with nothing more than a few bruises and even managed to make it to the church in time. He did, however, wait until after the ceremony to break the bad news.
According to our (less than reliable source) the Murcielago was written off by the insurers as it sustained approximately £160,000 worth of damage.
[Via TheDailyMail]