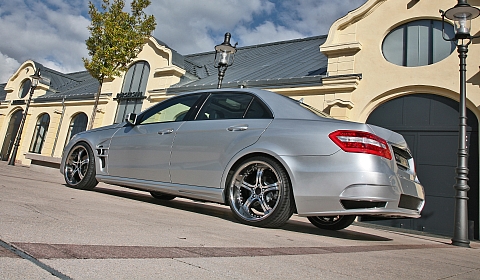 The W212 Mercedes E-Class has already attracted plenty of attention from the tuning world. ATT (Autotechnik + Tuning) have announced their kit for the German saloon after finishing their work on the BMW M3 we saw at the start of the month. Unlike the BMW, this kit benefits only from aerodynamic tweaks and a shiny new set of rims!
Included in the kit is a new front grille featuring a massive blank logo and four new fog lights. The fenders have been made wider and new air vents added. Side skirts, a new spoiler and a re-styled rear make up the final modifications to the cars bodywork.
The 20 inch alloys come in sizes 9×20 or 10,5×20 and are wrapped in Hankook S1 EVO tyres.
The price for the bodywork is set at €6,452 (£5,727) with the alloys costing a further €3,869 (£3,434). ATT also have performance, interior and chassis enhancements on offer. For more details contact the through their website.