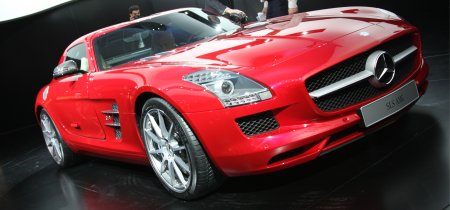 After months of official spy shots, videos, leaked information and online configurators we finally had the chance to look at the Mercedes SLS AMG Gullwing. The retro design AMG sports car is the latest from the German manufacturer and gives us an inside into the history of the brand bringing back the memories of the original Gullwing; the 300 SL.
We are not gonna discuss all the specifications of the car. You find them here, here and here. This topic is filled with words covering our first experience with the new Benz.
The looks of the car are better in real life then the pictures we have seen before. However, it is still not best looking car we have come across today at the IAA 2009. The exterior looks are a mix of the current design filosophy and the heritage of the highly successful competition-only sports car from the 50's. Unfortunately this SLS AMG will never reach the history books, like his older brother. The looks are fine, but not epic.
The same can be said about the interior. It feels spacious, much more than the McLaren SLR. The doors are much further away from your body. The side windows are still small. The ergonomics are Mercedes-style, no discussion about that. The seats are good, the seating position ready for lift off. The parts used on the dash board can be found in many other cars within the Benz-portfolio. The center console is a comfortable place for your right arm and the controls can easily be reached.
Down falls? The doors are opened in a vertical way. While we were waiting to get our place inside the sports car, many people bumped their head exiting the vehicle. Closing the doors can be a problem for people with short arms. Kinda funny seeing people unable to reach the door. They are not electronically controlled, so please tuners install this!
Overall we are mixed positive about the SLS AMG Gullwing. It is not an epic design, but has something special to it. We would prefer taking the silver grey version in stead of the red one. Red belongs to another supercar brand and silver brings back the heritage of the 300 SL Gullwing. Unfortunately, we will always think about the 300 SL when we see the 'new' Gullwing in a silver livery passing by.