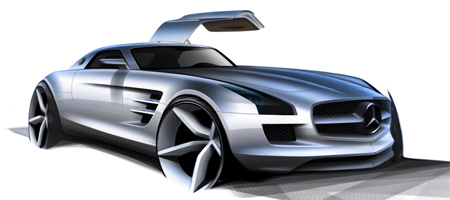 Anyone wondering how they should spec their future Mercedes SLS AMG Gullwing need not wander any more. These images of the dealership ordering guide have been leaked and reveal the extent to which the car will be available to spec. It's a US dealership sheet but we suspect that much of it will be the same as the European one.
The SLS AMG will feature a 6.3L V-8 'hand built' AMG engine producing 563bhp and 479lb-ft of torque. Coupled to this will be the standard AMG 7-Speed dual clutch transmission and the all important limited slip differential. It'll also feature keyless-go, auto dimming mirrors and dual zone climate control. Rear view camera's, daytime running lights, 6-disc CD changer with Ipod connectivity and a 40GB GPS system all as standard.
Colours are available in 4 different price steps, 4 standard metallic colours available as standard, 2 special colours for $1,500, 2 matte grey colours for $3,000 and an 'ALU-BEAM' finish for $10,000.
A variety of different leathers are shown for the interior, all of which are standard. Only one extra cost option can be ordered for the seats. A comprehensive Bang & Olufsen 10 speaker, 1,000 watt speaker system is also offered for $6,400.
Our favorite upgrades have to be AMG suspension upgrades that can be applied for $1,500. As well as this, Mercedes and AMG have aimed to capitalise on the current trend for sport carbon fiber interiors. An interior carbon fiber trim is available for $4,500 as are carbon fiber side mirrors for $5,000 and a $5,400 carbon fiber engine cover. Or you can go the full length on the interior and choose the $9,000 extended interior package which includes side sills and seat surrounds all in carbon fiber.
Another option is the Carbon Ceramic brakes which are priced at $12,000. Our guess is that you won't need them unless you live on a race track or you fancy making your passengers sick from the savage g-forces.
[Via AutoBlog]