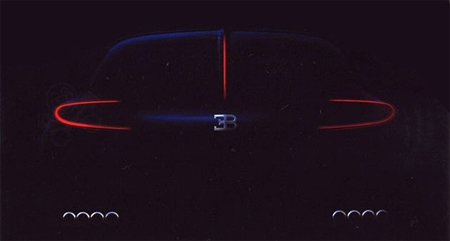 A centenary for any company is a pretty special event. We've already seen how Bugatti intend to celebrate it with the Veyron Centenaire editions. Only to be seen together at the exclusive Ville D' Este concours, Bugatti fans were left wondering if this is the only way the company planned to celebrate 100 years in business. It's now clear however, that Bugatti intend to fully celebrate their centenary at the IAA Frankfurt with a new model. This picture depicts in more detail, the picture that was sent out on VIP invitations to the cars official unveiling.
The obvious design characteristics that this picture portrays are the boomerang rear lights coupled with the central, vertical brake light. The brake light reminds us of that wondrous central line running up the Type 57 SC Atlantic, of which only 3 were produced and only 2 (original) examples remain.
The other notable design feature of the car is the 8 exhausts that appear to feature on the car. Once again this reminds us of the Type 57 SC Atlantic which featured a more modest 6 exhausts in a row on it's rear.
As with most milestone models, a certain amount of nostalgia can be expected. Previously this car has been touted to be a homage to the Bugatti Type 41 Royale. The biggest and heaviest of all Bugatti's, it was thought that the Veyron's sibling would be a saloon style homage to Bugatti's most grandiose project. Instead, it's now believed that the car will be a 'shooting break' style coupé with design elements lifted from some of Bugatti's finest models.
It's expected that the car will keep the Veyron's quad-turbo 8.0L W16 engine which will be moved up front to accommodate an extra 2 seats in the rear. It's also expected that the new car will not lose any of it's 1,001PS rating. Bugatti CEO, Franz-Josef Paefgen recently denied that a cheaper model was in the works and claimed that the next model will be every bit as extreme as the Veyron.
[Via Pistonheads, MotorAuthority]