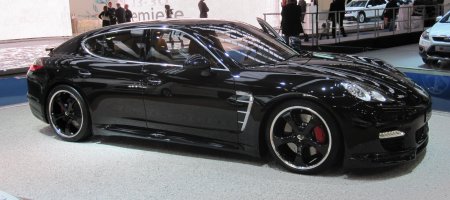 We were amazed and surprised but TechArt have pulled it off. In two weeks time they have managed to build-up a TechArt Panamera Turbo and we checked it out at their stand here at the Frankfurt Motor Show. The TechArt program is mend for the full gamma including the Porsche Panamera S, 4S and Turbo.
The first phase of the TechArt program includes exterior components for improved aerodynamics and a new appearance that is typical of the German tuner. It includes 21 and 22 inch light metal wheels, a multifunctional daylight running light system, as well as refinements in the interior.
The Aerokit I was manufactured from PUR-RIM. TechArt stated to us that the three-part front spoiler I has integrated brake air ducting and reduces the lift on the front axle with better cooling of the brakes at the same time. The side skirts steady the airflow under the vehicle and form dynamic contours in the side view. The new rear spoiler I and a rear diffusor support driving stability. The dual oval tailpipes made of stainless steel.
21-inch TechArt Formula or sporty 22-inch TechArt Formula II light-metal wheels are available at your chosing. TechArt recommends you use Conti Sport Contact 3 tires or Michelin Pilot Sport PS2 tires.
We have seen their multifunctional daytime running lights system on other vehicles before. The Panamera has them too. The system combines daytime running lights, blinkers, sidelights, and parking lights in one housing. The housing is available in a choice of chrome or black.
Inside the Panamera we spotted two-colour leather finishing in teak and black. Bu that was not all. On the pictures you will notice decorative stitching with matching thread, a roof liner in the same coloured Alcantara, details such as interior colour-matched handles and foot mats with leather edging in the colour teak. The sport steering wheel as well as dials with the interior colour complete the package. The Panamera is the first vehicle to have exotic wood variations available.
Only thing we missed were engine upgrades. Unfortunately, we have to wait until the Essen Motor Show 2009 for full detailed information on the technical changes.