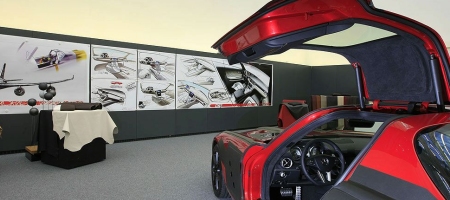 More and more details and photos of the 2010 Mercedes Benz SLS AMG Gullwing show up these days. We already knew that the car is expected to debut at the 2009 Frankfurt Motor Show in September with a pricetag of about €150,000, but some more information on the interior became available today.
The airplane-inspired interior design has everything you need. There is a full-featured infotainment system in the front and center, including the stereo, Bluetooth, climate control, COMAND, and shifter mounted below. Each part is surrounded with either aluminum or carbon-fiber trim.
Aluminum pedals match with the metal used on the vents, gauges, steering wheel, and the rings around the controls. Two gauges are placed behind the multi-function wheel, with a computer display in-between them. Leather sports seats in at least five different colors are available.
[Via WorldCarFans]