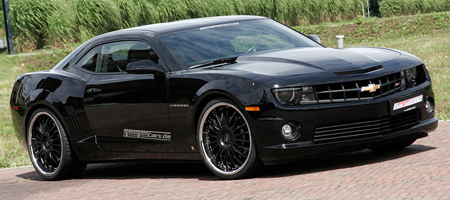 A little while ago we posted some information on a mysterious Geiger Camaro. Back then we were only able to tell you about the possibilities of an imported car and the rough costings. However, we also remembered the tuning packages they did for the Challenger SRT-8 and the recently released Z06 Bi-Turbo. We speculated that perhaps the car in the picture was packing a little more punch than the standard car. We've finally got the information we were waiting for and it makes for exciting reading!
The most important aspect of an American muscle car is obviously it's power output. As a base, the Camaro SS' standard 432bhp is hardly underpowered. Germany-based Geiger Cars doesn't share this view though. A new supercharger has been applied to release a few more horses from the lazy 6.2 litre V8. The new figures read something like: 568bhp and a staggering 799lb-ft of torque.
This is where the standard muscle car tuning starts to gain a European element. A whole host of extra suspension, braking and wheel upgrades have been applied to allow the car to use it's power quota efficiently. Coilover springs and adjustable sports anti-roll bars have been applied on both axles. New brakes are housed in the new 20inch alloys and to finish the look, Geiger have upgraded the rubber to help the car cope better.
As well as these upgrades, a twin-plate performance clutch has been added to the car's 6-speed manual gearbox.
[Via MotorAuthority]